Download details
Download Midi Clock Generator
Midi Clock Generator Utility FREE

(No Warranty is implied with this application suitability for your specific needs, you use this utility entirely at your own risk).
This utility allows you to adjust the BPM of a Device(s) that support Midi Sync/Clock as a Slave.
ie VoiceLive 3, VoiceLive 2, VoiceLive Touch 2 etc.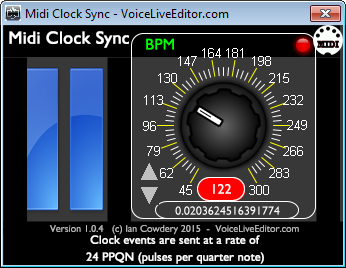 1) Start The utility, click the Midi Icon (Top Right), select the device or devices you wish to send the Midi Sync Data to.
2) Click the Start (large Arrow) Button. The utility will now start sending the Midi Clock Data, the Red LED should start blinking when data is being sent.
You can adjust the BPM with the Dial, and also nudge up/down by one BPM with the arrows.

I used this to test the Midi Sync for the Beta 172 of the VoiceLive 3. You may find it useful for other things.
License
VoiceLiveEditor Licence

All updates are FREE.
You just install the new version over your existing installation.