Download details
Download VL2 to VL3 Converter OSX
VoiceLive 2 to VoiceLive 3 Converter FREE

(No Warranty is implied with this application suitability for your specific needs, you use this utility entirely at your own risk).
For the VoiceLive 2 Users that have upgraded to the Voicelive 3 and are spending hours manually transferring their presets over, I have created a utility to make it easier.
The utility shoud be about 95% accurate, so you may have to do some slight adjustments to the presets, but nothing too major.
I have created a video demonstrating its use, so please watch the video to see how it works, basically when run the converter stays on the screen so that you can have it active when your using VOICESUPPORT.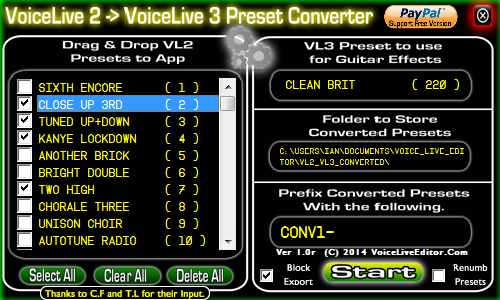 If you find it usefull, please consider donating to its development.
License
VoiceLiveEditor Licence

All updates are FREE.
You just install the new version over your existing installation.